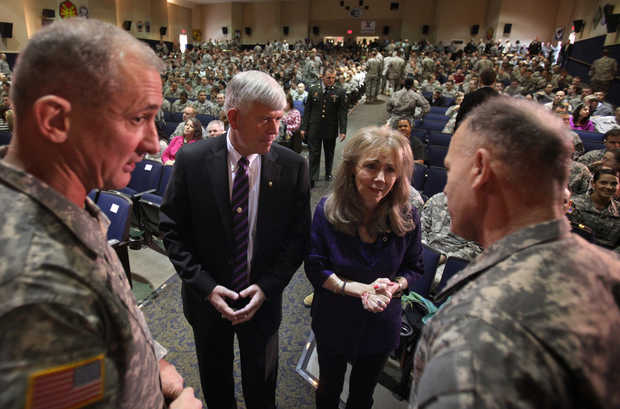 And the good news is.............a difference is being made. This was just released January 17, 2014:
Joint Base Lewis-McChord recorded a small decline in soldier suicides in 2013, marking its first drop in self-inflicted deaths since 2007.
As many as 12 soldiers at the base took their own lives last year, down from 13 in each of the two previous years, according to the I Corps. Two of the deaths are confirmed as suicides and 10 remain under investigation.
While the numbers appear to have held fairly steady, Lewis-McChord's stateside population grew dramatically between 2012 and 2013.
In 2012, all three of the base's Stryker brigades deployed to Afghanistan at different times. Each took between 3,500 soldiers and 4,500 soldiers. By contrast, the base was full for most of 2013 with about 34,000 active-duty troops at home.

"We had one fewer (suicide) this year. You might say that's not much progress," I Corps Commander and Lewis-McChord senior Army officer Lt. Gen. Robert Brown said. "But we had 15,000 more people here."
The slight decline is consistent with an Armywide trend. In November, the Defense Department reported suicides declined by 22 percent compared with the same period in 2012, when a record 349 soldiers, sailors, airmen and Marines took their own lives.

Defense has not updated its November report to include the entire year. Some Army posts reported steeper declines in suicides. The Austin American-Statesman this month reported that Fort Hood in Texas recorded up to seven suicides in 2013, down from 20 in 2012.

Self-inflicted deaths among active-duty soldiers began climbing steadily about 2005 and continued to rise despite an intense prevention campaign that steered tens of millions of dollars to research, outreach and training programs.

The causes for the suicide increase defy easy explanation and don't necessarily connect to a stepped-up pace of combat. Army reports showed that about half of the deaths involved new soldiers who had never deployed to a warzone.

"It breaks your heart," Brown said. "The Army spends millions of dollars in programs to help individuals, and if we know (someone is in trouble), we can help." Lewis-McChord hosted several high-profile suicide prevention programs in the past two years. In late 2012, it halted normal business for a week and directed soldiers to visit suicide prevention programs around the base.

Last March, retired Maj. Gen. Mark Graham and his wife Carol visited Lewis-McChord to talk with soldiers about the two sons they lost, one to suicide and the other to war.Their experiences set the tone for emotional forums in which Lewis-McChord soldiers opened up about times they've thought about ending their own lives.
Afterward, Brown said, Lewis-McChord did not see a suicide for five months.

"I was like 'Oh my gosh. We've broken through. We've made it. We've figured this out.' I was very excited," he said. "And then we had a string from all different units; no pattern." Nonetheless, Brown said the different suicide prevention campaigns have saved lives. He pointed to changes such as behavioral health providers "embedded" inside combat units, and he said command teams are more responsive when they hear of a soldier considering suicide.

Plus, since the Grahams visited, Brown said more soldiers are speaking up when they notice a friend making comments that suggest a self-destructive thought. "They felt like they were dropping the dime on somebody," Brown said. Now, "the No. 1 way we (find) out about a suicidal ideation is from a friend, a peer."
Adam Ashton: 253-597-8646
adam.ashton@thenewstribune.com

>>>>>>>Much more in "Legacy Part 2"