A symbol of healing
In France, if a Ladybug landed on you, whatever ailment you had would fly away with the Ladybug
"The only thing worse than being at war is being a Soldier and not being at war" . 2LT Jeffrey Graham, one month before he deployed to Iraq
Jeff left for Iraq on 15 November 2003, Kevin's birthday
After Jeff's funeral a banner was placed on the grave that said:



2LT Jeffrey Graham

2LT Jeffrey C. Graham, 2d Platoon, C Company, 1st Battalion, 34th Armor Regiment, 1st Infantry Division was killed by an Improvised Explosive Device (IED) on 19 February 2004, while leading a foot patrol in Khaldiyah, Iraq. Reports tell us that

Jeff stopped his platoon short of a bridge when he noticed something out of the ordinary on the bridge's guard rail. As he was warning his platoon and calling in the report the IED was remotely denoted killing Jeff, SPC Roger Ling, and two Iraqi

nationals.
Fallen Heroes of Operation Iraqi Freedom
Remembering the servicemembers who died in the service of their country: Entries about Jeffrey Graham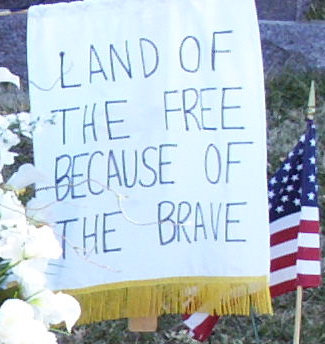 Lo, I have stood my watch this day
I have kept our enemy at bay
God and country I serve, so I swore
For peace today and evermore
A new watch I proudly stand
So glorious and bold as God took my hand
With shied and armor, I now bear a sword
My comrades and I stand tall with the Lord
My eyes are fixed, my path is sure
My heart and mind so blessed and pure
As my God now dwells with me
My spirit with you will always be
The 2LT Jeffrey C. Graham Memorial Scholarship Fund was started by two of Jeff's Engineering classmates at the University of Kentucky. Jeff truly loved engineering and looked forward to using the skills he learned at UK to help the people of Iraq. He said on the phone one night, "Dad, we are making a difference here and when things calm down I am looking forward to using my engineering education to help these people rebuild their country". To help someone else have the opportunity to study engineering at UK you can contribute to this scholarship fund by sending your contribution to:

2LT Jeffrey C. Graham Memorial Scholarship Fund
ATTN: College of Engineering
251 Ralph G Anderson Building
Lexington, KY 40506-0503
(859) 257-3342
www.engr.uky.edu